(Swedish at the end)
Rigg activity for fracking in the USA.
The low oil price has been devastating for drilling activity for fracking. In Figure 14.12 in our new book "A world addicted to oil" we show that drilling activity, that grew dramatically between 2009 and 2012 before the price of oil fell, has now reached a new low in 2016. The low oil price also affects the drilling activity required to find new conventional oil. In an article from Bloomberg Markets, they announce, "Oil Discoveries at 70-Year Low Signal Supply Shortfall Ahead". It is interesting to note that in November 2014 the IEA published estimates for discoveries in the period 2010-2019 as equalling 8.5 billion barrels per year. Now Wood Mackenzie reports that discoveries in 2015 were 2.7 billion barrels and that this year they have only found 0.75 billion barrels so far. Nevertheless, we continue to consume more than 30 billion barrels per year. This decrease in new oil discoveries is no surprise for us since it is consistent with the trends we have seen. It appears that ten years' worth of discoveries will not be sufficient to replace the oil we consumed in 2015. The figure below shows oil discoveries since 1947. The enormous discovery in 1948 of 160 billion barrels is the Ghawar oil field in Saudi Arabia.
(http://www.bloomberg.com/news/articles/2016-08-29/oil-discoveries-at-a-70-year-low-signal-a-supply-shortfall-ahead)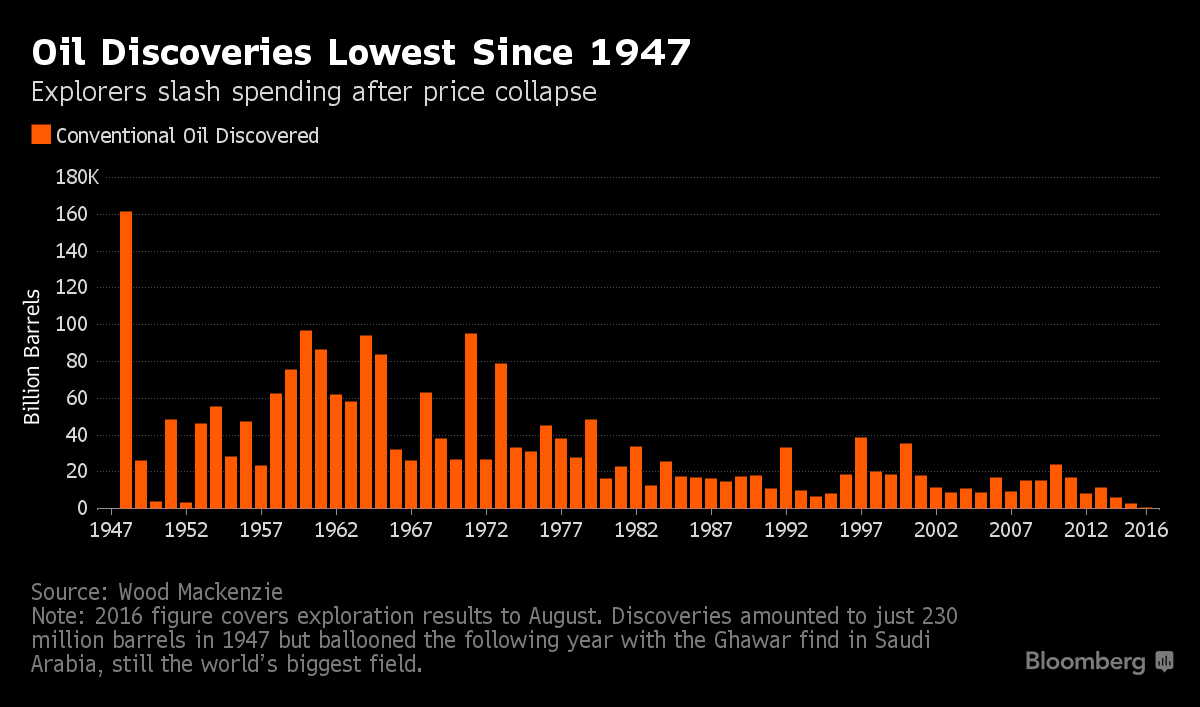 (The book, "A world addicted to oil" [in Swedish] can be ordered by sending an email to till exergena@gmail.com (200 kr + freight). The English version of the book will be published by Springer later this year.)
Det låga oljepriset har varit förödande för borraktiviteten för fracking. I figur 14.12 i vår nya bok "En värld drogad av olja" visar vi att borraktiviteten, som från ett minimum 2009 ökade dramatiskt fram till 2012nför att sedan då oljepriset dalade minska till ett minimum nu 2016. Det låga oljepriset har också påverkat borraktiviteten för att hitta ny konventionell olja. I en artikel ifrån Bloomberg Markets så markerar man att "Oil Discoveries at 70-Year Low Signal Supply Shortfall Ahead". Det är intressant att notera att IEA i november 2014 beräknar att fyndigheterna för perioden 2010-2019 skall vara 8.5 miljarder fat om året. Nu rapporterar Wood Mackenzie att fyndigheterna för 2015 var 2.7 miljarder fat och att man hittills i år bara hittat 0.74 miljarder fat. Fortfarande konsumerar vi mer än 30 miljarder fat olja om året. Att denna minskning sker är ingen överraskning för oss då det representerar de trender som vi sett. Det verkar som om vi inte kan ersätta konsumtionen 2015 med tio års fyndigheter. Figuren här ovan visar oljefyndigheter sedan 1947. Den stora fyndigheten 1948 med 160 miljarder fat är Ghawar i Saudiarabien.
(Boken "En värld drogad av olja kan beställas via mail till exergena@gmail.com (200 kr + frakt). Den engelska versionen av boken, "A World Addicted to Oil" kommer att publiceras av Springer senare i år.)
Posted in: Uncategorized